What do you provide & what do I need to bring?
Fishing rods, reels, tackle, bait, ice, fishing licenses and safety equipment is provided with all charter trips for groups of up to six. Smoke Show Sportfishing provides water and basic amenities, but it's recommended for guests to bring their own special refreshments, food, non-spray sunscreen and something to calm those queasy stomachs that tend to get sea sick.
Keeping your comfort in mind, Smoke Show offers an enclosed air-conditioned/heated cabin and restroom facilities available for use while on the water. We recommend you store all cold food items in the kitchen fridge, while any beverages can be kept in the large cooler outside for easy access while fishing. Oh, and absolutely NO BANANAS! Or stickers of bananas, fake bananas, really just nothing that could be mistaken for those bad luck bananas on the boat.
How many people can we bring & can we keep our catch?
All rates listed are per charter for up to 6 passengers max. Smoke Show Sportfishing only offers per boat charters and does not offer per person (make-up charter) rates.
Yes of course you can keep your catch. If it is legal and within Virginia State Limits, you can keep the fish you reel in. While we always strive to have the time available to clean your catch back at the dock, we aren't always able to and can point you in the direction of a good place nearby that will be able to filet your fish in a flash.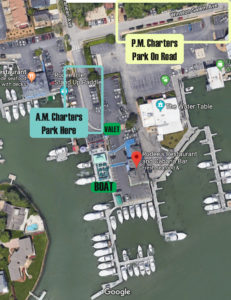 Where are you located & where do I park for the charter?
Docked steps away from Rudee's Restaurant & Cabana Bar, you'll have easy access to board for an amazing day of fishing, followed by a great night with friends and family.
Parking can be a little tight, so we recommend all morning charters try to park as indicated on the map and afternoon charters either valet at the stand next to the restaurant or find nearby street parking.
How do we pay & who do we pay?
A 10% deposit is required within 48 hours of booking to reserve your trip date, which will be applied to the total charter cost. The remaining amount must be paid in advance or on the day-of before the boat departs. Final payment by cash or check is preferred, and credit/debit cards are also accepted with an additional 10% processing fee applied.
There will be a mate on board who works strictly for tips. While it is up to your discretion, it is customary and we strongly encourage tipping 15%-20%.
What happens after I book & what's your cancellation policy?
Once you've booked your trip, you'll be provided with a confirmation email with a detailed invoice and all the info you will need to prepare to get out on the water with us. An additional reminder email will be sent a week prior to your trip.
If you need to cancel for any reason, you must notify us with an official cancellation notice at least 7 days before your scheduled trip to receive your deposit back or to place your deposit on a different date. An official cancellation notice can be made through voice mail, e-mail or text message, however, you must receive a response back from Smoke Show Sportfishing to confirm it has been received. If you do not provide an official cancellation notice in advance as required, your deposit will not be refunded. If you simply do not show up on the day of your scheduled trip, you will be charged the full price of the trip.
If your scheduled trip is canceled at the Captains discretion due to weather conditions or other unforeseen circumstances, we will refund your deposit or it can be applied towards a rescheduled trip on a future date (up to one year).